---
Lee County Master Gardeners enjoyed a very nice 2016 group picnic. The group also held a plant swap as part of the picnic. Everyone enjoyed a relaxing and festive evening.
---
Note:
Effective July 1, 2016, the cost for soil samples received in the MSU-Extension Service Soil Testing Lab for a routine soil analysis will increase to $8.00 per sample.
---
Lee County Master Gardener Projects

The Lee County Master Gardeners lead and participate in many projects that help to promote gardening and serve as beautification to areas in Lee County. The projects provide a way to engage the public in gardening activities and to share current ideas. Please use the button below to explore and learn how the Lee County Master Gardeners contribute their time and love of gardening with the community.
---
Lee County Master Gardeners Earn 2016 State Awards
The Lee County Master Gardeners earned the Mississippi Association of the Year award.

Lee County Master Gardener Dale Smith earns Mississippi Master Gardener of the Year.

Susi Wade and the Cookbook committee earned the Publication of the Year award for the Mastering Mealtime Cookbook.
---
---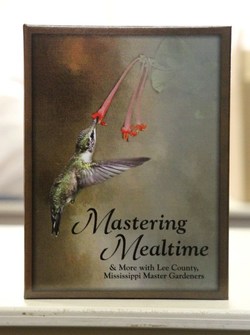 The Lee County Master Gardeners have written a wonderful cookbook, Mastering Mealtime, full of gardening information, as well as over 400 delicious, tried and true recipes. Mastering Mealtime, now in the second printing, is available from any Master Gardener or at the Lee County extension office on Cliff Gookin Blvd.
The price is $20.
---
LEE COUNTY MASTER GARDENER HELP CENTER
​662-620-8280 or 1-866-920-4678

---

​
​Location:
MSU Lee County Extension Office
5338 Cliff Gookin Blvd.; Tupelo, MS 38801


---